IACC Participated in IPR Center's Global Trade Enforcement Training in the Dominican Republic
August 10, 2021
Homeland Security Investigations
National Intellectual Property Rights Coordination Center
Global Trade Enforcement Training
Caribbean
August 2 – 6, 2021
The IACC recently participated in the National Intellectual Property Rights Coordination Center's (IPR Center) Global Trade Enforcement Training in the Dominican Republic, instructing customs and/or law enforcement personnel from 12 Caribbean nations and TCIU teams.
As a result of our seat at the IPR Center, we were invited to join Steve Francis, Executive Associate Director, Homeland Security Investigations, Victor Bisono Haza, Minister of Industry, Dominican Republic, Magistrate Army Ferreira, IP Unit Prosecutor General, Dominican Republic and Lieutenant Colonel Michael Jones, Executive Director of CARICOM-IMPACS.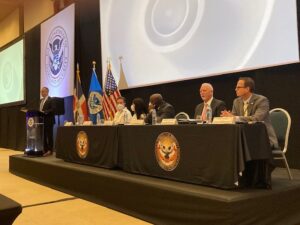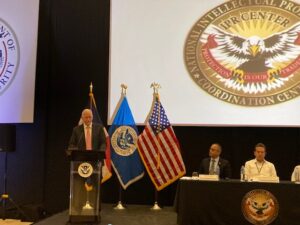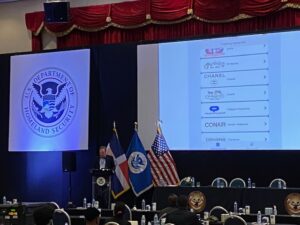 In his keynote address, President Bob Barchiesi pledged the IACC's support and resources to further the fight against fakes. Later, Vice President Michal Walsh demonstrated our Law Enforcement Training App to an enthusiastic audience.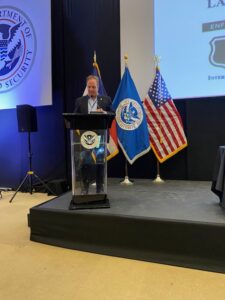 Training covered current trends in investigating import and export related crimes including counterfeit pharmaceuticals, consumer goods and tobacco. Break-out sessions encouraged an exchange of information between participants on the challenges and successes in the region. Training was focused on interdiction, investigation and enforcement operations with emphasis on health and safety consequences of counterfeit goods and their connection to transnational organized crime. In addition, the curriculum highlighted public-private partnership and coordination.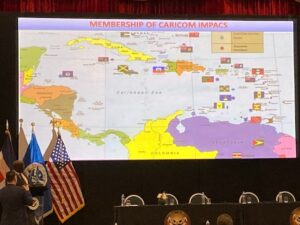 Participating countries included the Dominican Republic, Bahamas, Barbados, British Virgin Islands, Cayman Islands, Curacao, Haiti, Jamaica, Saint Maarten, St Kitts & Nevis, and Trinidad & Tobago.
The IACC would like to thank Homeland Security Investigations, the Federal Bureau of Investigation, U.S. Customs & Border Protection, U.S. Department of State, U.S. Department of Justice, U.S. Patent & Trademark Office and other government partners for their participation. The IACC supports and thanks all members of law enforcement for their service and support.
The next virtual IACC training will be CBP – Port of San Francisco on September 21st, 22nd & 23rd.