RogueBlock®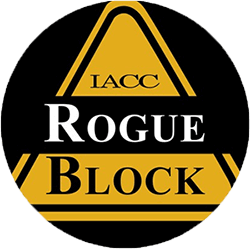 RogueBlock®, the IACC's payment processor initiative, is a collaborative effort of the IACC and the payment industry to create a streamlined, simplified procedure for members to report online sellers of counterfeit or pirated goods directly to credit card and financial services companies.
With a goal of facilitating prompt action against counterfeiters' merchant accounts and diminishing the ability of such sellers to profit from their illicit sales, the RogueBlock® program offers members a cost efficient tool for IP enforcement.
To date, the program has terminated over 5,000 individual counterfeiters' merchant accounts, which has impacted over 200,000 websites.
The initiative was launched in January 2012 following rights-holder negotiations with the payment industry to develop a set of best practices in addressing rogue websites. This initiative was highly encouraged and supported by then U.S. Intellectual Property Enforcement Coordinator, Victoria Espinel. It continues to receive the support of the Administration.
Current partners to the initiative include many of the biggest credit card and financial services companies in the world such as: MasterCard, Visa International, Visa Europe, PayPal, MoneyGram, American Express, Discover, PULSE, Diners Club and Western Union.
A large part of the program's success hinges on the education and awareness of major acquiring banks, payment service providers and credit card networks. The IACC co-hosts events around the world to educate payment industry personnel on the risks associated with taking on counterfeit merchants.
Program Highlights
Each participating rights-holder representative has access to a secure online portal that facilitates the secure flow information from rights-holders to designated governmental/enforcement agencies and credit card and financial services companies;
IACC network mapping analysis identifies the highest value targets for takedown investigation and de-duplicates inputs in order to save participants time and effort;
The rights-holder representative submits an easy-to-complete report form regarding a target infringing site via a brand-specific portal;
The IACC reviews and subsequently distributes each report to the appropriate credit card and/or financial services company; and
The rights-holder representative may review the status and outcome of all submitted reports, using analytic and reporting tools from within the Portal.
Current and upcoming enhancements to RogueBlock® include:
A data-sharing program that will use participants' claims to suspend and lock down infringers' websites in addition to terminating payment services;
The ability to submit claims for counterfeits being sold in certain online marketplaces;
The ability to take action against cyberlockers;
A broader selection of violation bases for actionable claims, particularly within the pharmaceutical industry; and
Timely reporting tools that will allow participants to measure return on investment and generate investigative leads.
Eligibility
Both member and non-member rights-holders are eligible to participate.