Baby Phat Jeans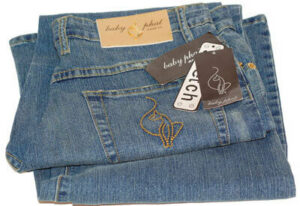 Baby Phat jeans: Fake!
Yes, even jeans are counterfeited. All your favorite brands. But, in addition to supporting criminal syndicates, any jeans-wearing, fashion-conscious shopper will tell you jeans are all about the perfect fit. And, with the fakes – BEWARE. Here are a few tips to help you avoid buying fake jeans:
Missing or generic rivets? Fake. Many jeans manufacturers' rivets
(and other hardware) include the company name.
Loose threads and other poor quality construction inside? Probably fake.
Logo on inside of waistband in wrong font? Fake.
Exterior hangtag with different paper quality, font or twine attachment? Fake.
Zipper missing name-brand logo? Fake.
According to Counterfeit Chic, a Web site that helps shoppers avoid fake fashions, if you're hoping to score a bargain but unsure whether you're simply getting ripped off instead, bring along a real pair of your preferred brand for comparison–and if you're still in doubt, shop elsewhere.