SME Design Rights Virtual Workshop - Co-Hosted by Alibaba Group and IACC

June 29, 2021




11:00 am - 1:00 pm

ET

Members Only

You must be a member and logged in to view this content.

If you're a member please login here.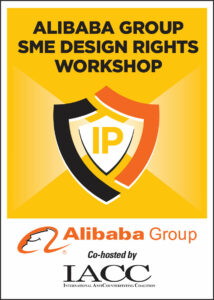 Date: June 29, 2021
Time: 11:00am to 1:00pm Eastern time / 17.00 to 19.00 Central European Time
Fee: There is no charge for this workshop.
Who Should Attend: While the subject matter is intended to focus on the needs of SMEs, the content and discussion will benefit larger companies and experienced IP practitioners as well.
Agenda is now available –  Click here to download!
About:
This webinar is designed to introduce attendees to the basics of design rights and protection, including discussions of available registered and unregistered design rights in the U.S., Europe and China as well as related IP rights.
This June 29 workshop will focus on available patent, trademark and copyrights to protect products, product packaging and related collateral. The presentations and moderated panel, followed by a Q&A session, will consider IP enforcement topics such as:
Practical tips by experienced IP practitioners regarding IP rights in the U.S., Europe and China.
A discussion of offline and online enforcement strategies.
An introduction to the IACC MarketSafe® Program for SMEs.
A panel discussion of IP rights and example cases, drawing on the real-life experiences of IP experts.
Select Registration Type
IACC Members: Please login to access your member level pricing. If you need login credentials, please contact us at iacc@iacc.org.
LOGIN
Non-Members and Government: Enter your email address below to verify that you haven't already registered for this event. You will then have access to register..